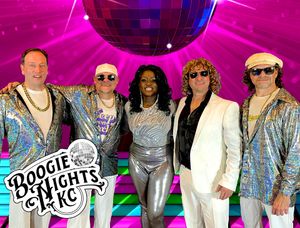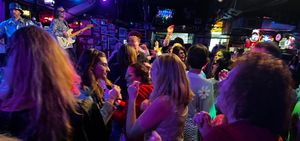 Everybody, whether they admit it or not, loves disco. The 1970s was an era that created a theme that has yet to be rivaled when it comes to good times, dancing, and funky grooves. That theme is what drives Boogie Nights KC, The USA's most exciting Disco Band with the mirror balls and video wall, to play all the greatest hits from the 1970s. 
Boogie Nights KC is made up of five of the Kansas City area's top-shelf musicians. They offer spontaneity and genuine reproduction of all your favorite Disco hits from the hippest era ever. Band members  are highly seasoned professional entertainers -- wearing  outrageous 1970's era clothing and providing music and hijinks onstage to entertain all ages. 
What sets this band apart from all the rest? Boogie Nights KC is an energetic ensemble of talented and fun musicians representing every genre of music with years of professional experience. The addition of over $50,000 in stage production that includes a high-definition, weatherproof  video wall to enhance the disco experience with groovy images and live shots of the audience displayed on that amazing big screen. Boogie Nights KC brings the authentic sounds and the top hits from this awesome time in music history with their energetic stage show and their authentic look. 
Boogie Nights KC will take you back to that groovy time, be ready to dance the night away!